return to case studies
solarcases light up platforms on the Trans Wilts Railways
Solarcases have been proven popular in a wide variety of applications especially  in rural locations where conventional street lighting and mains electric supply does not exist or would be prohibitively expensive to install. The solarcase provides a stylish, practical and efficient way to display information throughout the day and night in this exterior grade display cabinet for information. An outdoors notice board in a robust case. Find out more about how we have installed solarcases on station platforms to illuminate train timetables, promotional material and posters. Read more below.
the challenge
Solar energy is an ideal source of power for outdoor lighting especially when a grid or generator electricity supply is not available, or as at the Trans Wilts stations, the location means cabling is not possible. Both the reliability of a solar solution and its ability to provide lighting  throughout the long dark winters were a specific concern, and one that solarcases needed to prove it could meet.  The solarcase met all these challenges.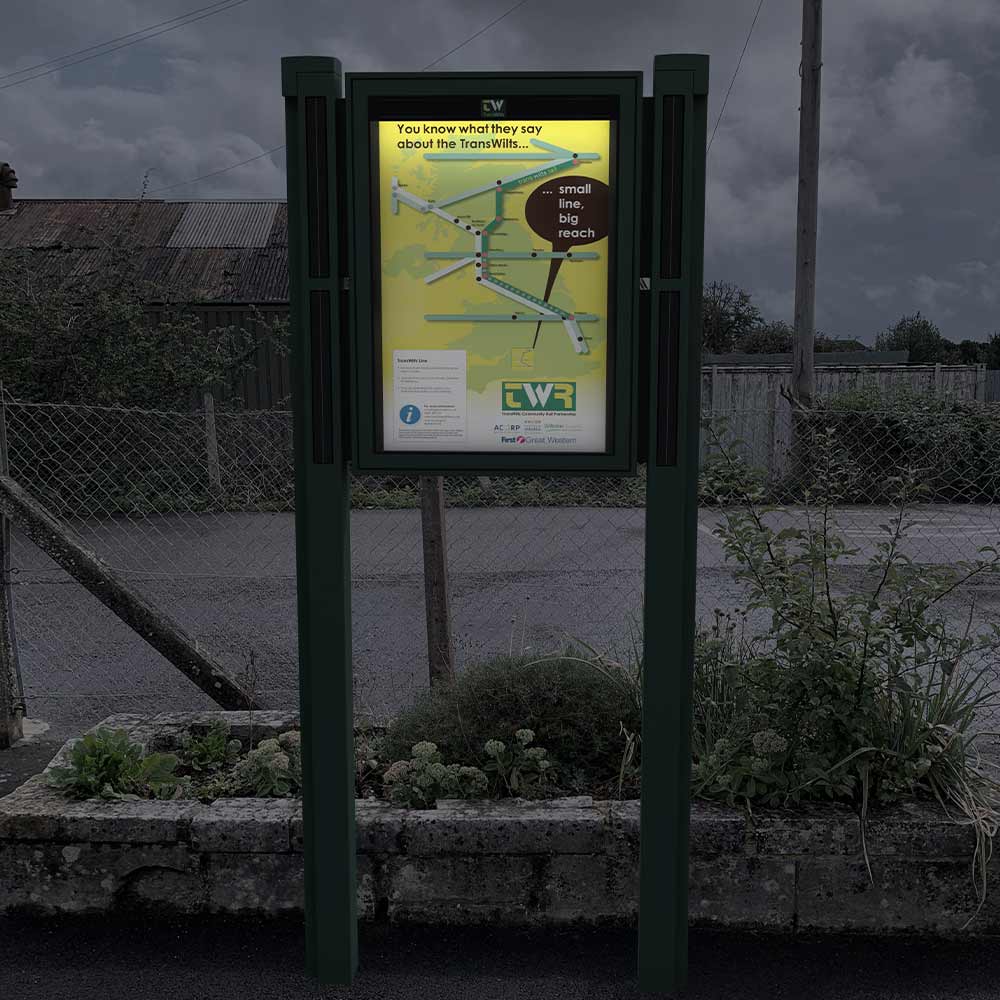 the solution & installation
The solarcase has an intelligent management control system which can customise time settings to suit any environment in any continent. In the case of Trans Wilts Railways the requirement was for the solarcases, which portray timetables, to light up on approach with a sensor, and then to shut down when not in use  –  based on the ecological principle : there is only light needed when someone is present.  Additionally, as the train stations shut after midnight, the controller can switch off the lighting and save energy.
the benefits
solar is an ideal energy source where cabling is not practical to install
extensive research & development enables solarcases to operate in locations with harsh climate and low levels of winter sunlight
modern clean alternative design allows solarcases to fit in any environment
zero energy costs
zero CO2 emissions
designed and made in the UK