return to case studies
Solar lighting for pathways at Crematorium
The six acre Garden of Remembrance that surrounds Colchester Crematorium is a place of tranquillity.  With mature trees, roses and shrubs and well tended lawns, it extends to six acres to the south of Colchester city centre.
It surrounds the Crematorium, built in 1957 of soft red brick.
the challenge
Lighting was needed along the pathways but needed to be unobtrusive and to be sympathetic to the peaceful atmosphere of the cemetery and Garden of Remembrance.  The design of the lighting posts also needed to be attractive in order to fit in with the crematorium building.
Solar lighting was preferred for several reasons.  It has a low carbon footprint which addresses the Council's environmental targets.  Also, it would not have been possible to undertake major groundworks that layingconnection to a mains or generator supply would have required.  This would have caused an unacceptable interruption of the work of the cemetery and crematorium.
"The solarposts are now coming to the end of their first winter and are still working well"
Ideally the lighting would brighten as someone walked towards and passed them; this would keep the ambient light levels low when no lighting was needed and significantly reduce light pollution. Not only is this an issue for local residents, cemeteries are important oases for wildlife and light pollution is a major problem for nocturnal species.
Price was also a consideration.  Like all local government authorities, there was a requirement to keep to a realistic budget.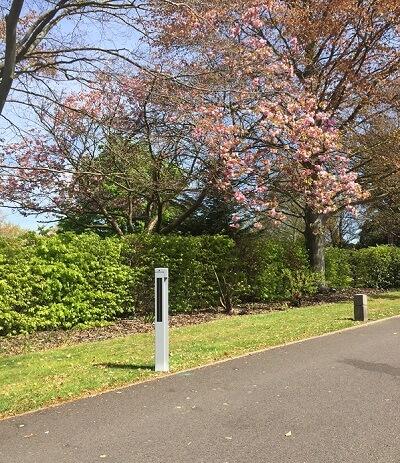 the solution & installation
The installation of 30 solarposts was completed in July 2016.  Delivery and installation was carried out by onthecase's contractor and completed in just two days.   Interruption to the working of the crematorium was minimal as was disturbance to the landscaping of the grounds.
"Just to say that my husband and I visited the cemetery late into the evening on Friday and every one of the Solarposts was shining, and brightening as we walked past them. They looked good."
the benefits
The lighting posts blend in well with the location and provide safe, reliable and symapthetic lighting from dusk till dawn along the pathways.
By providing two levels of brightness, one when the lighting posts detect someone approaching, and a lower level at all other times, light pollution is minimised for the benefit of local residents and wildlife and also is in keeping with the tranquillity of the cemetery and Garden of Remembrance.
Installation costs were low since there was no need for trenching or making good and further costs benefits will accrue with zero ongoing energy costs and minimal maintenance requirements going forward.