 Free delivery on orders over £250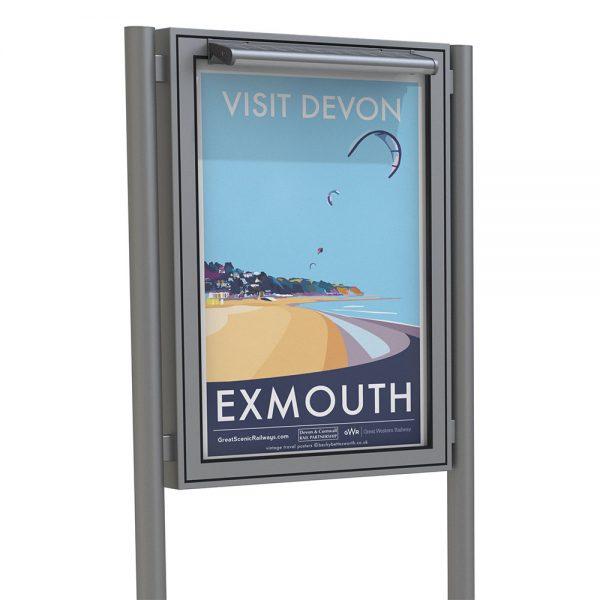 Solar Light Billboard Display Case
The Solar Case is an illuminated led display case. Built as an exterior cabinet it provides a stylish, practical and efficient way to display information throughout the day and night in this high grade display cabinet. Essentially it is an outdoor notice board in a robust case that will last for years.
The Solar Case has four options and comes in two coating options. You also have the option to buy it with or without posts depending on whether it can be wall mounted. It has a wide variety of applications and is particularly useful in rural locations where conventional street lighting and mains electric supply does not exist or would be prohibitively expensive to install.
Standard sizes – A2 portrait / A1 portrait / A0 landscape and Quad (accepts poster 1016mm high x 762mm wide).
Materials – Aluminium frame with side hinged door and toughened glass covers.
Fixing Posters – The cases all come with an internal frame to hold the posters.
Fixing applications – The cases can be wall mounted or post mounted.
Case illumination – Using our solar boom light unit fixed to the top of the case.
lumens level – 100 lumens per watt – our popular 600mm wide solar boom will generate 1000 lumens.
Sensor – The light operates on a low level light 25% brightness and then 100% brightness on approach.
Warranty – 3 years
How does the case illuminate?  Using our solar boom light unit fixed to the top of the case.
Will the light stay on all night?  No – the solar case comes with hand held remote control which sets the light unit at either 4, 6 or 8 hours then off for the UK climate we recommend 4 hours then off
Is charging purely by solar energy?  Answer no – the light unit also has DC charging as standard.
Does the product work all the year round in the UK?  
Not always – which is why we strongly recommend the product is located preferably in a south or westerly position to maximise energy if you asked for 100% functionality in Spain the answer would be yes! – its also why we put timings on many of our products for the UK market
Aluminium construction
4 standard sizes – custom sizes on request
Side hinged with toughened glass covers
Weatherproof IP65
Includes snap frame to hold poster
RAL powder coated or silver anodised
Wall or post mounted options
3 standard sizes 300mm/600mm/1200mm
Dark grey anodised
Zero energy costs
Co2 neutral
5 yr battery life
DC charging option
Simple installation – (no hard wiring)
Sensor system – 25% brightness and 100% brightness on approach
Remote control activation 4/6/8 hrs then off
Operating temp -25C to +65C
Weatherproof IP65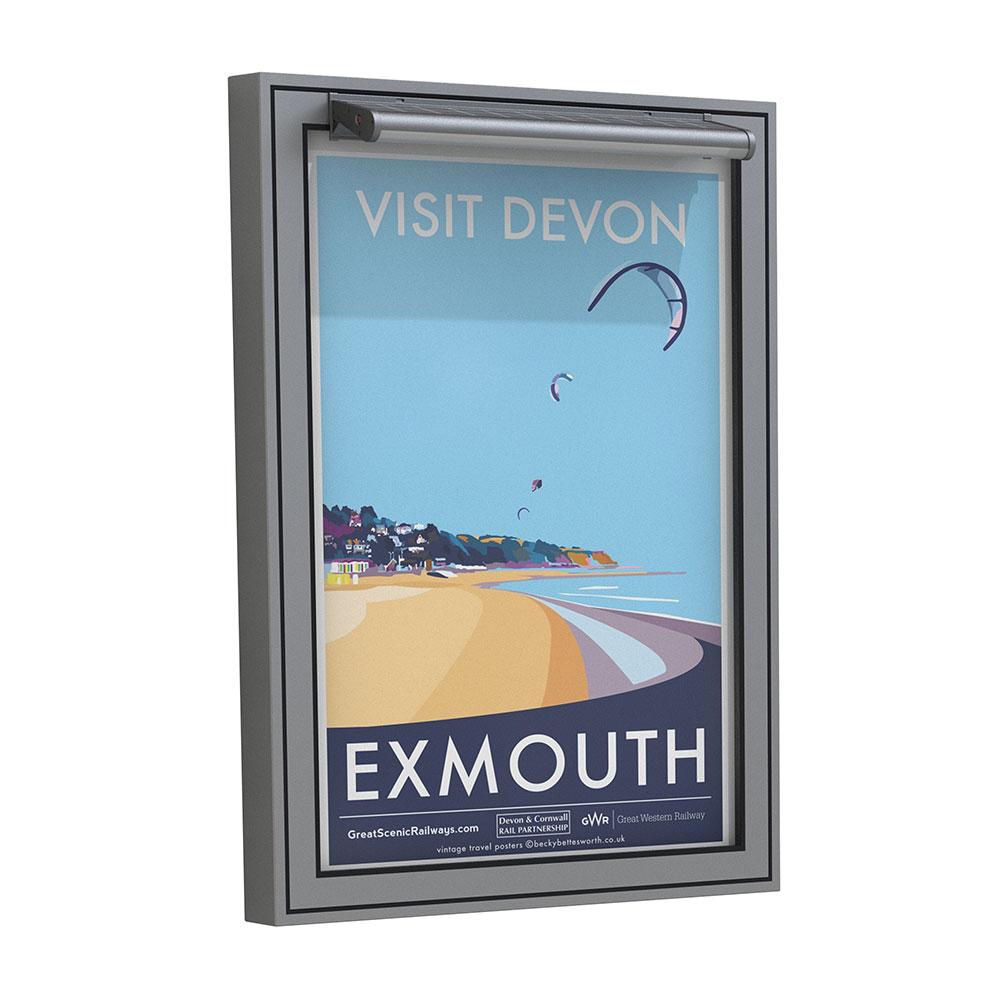 LED illumination
Light colour 6000k
Pv panel wattage 
300mm 5w
600mm 10w
1200mm 20w
Beam angle 20 degrees
Lumens 
300mm 500lm
600mm 1000lm
1200mm 2000lm
Lion battery 3.7v all sizes
DR Poster (Portrait)
Visual size: 635mm x 1016mm | Overall size: 765mm x 1146mm | Boom – 600mm
A2 Poster (Portrait)
Visual size: 420mm x 594mm | Overall size: 550mm x 724mm | Boom – 300mm
A1 poster (Portrait)
Visual size: 594mm x 841mm | Overall size: 724mm x 971mm | Boom – 600mm
A0 poster (Landscape)
Visual size: 841mm x 1189mm | Overall size: 971mm x 1319mm | Boom – 1200mm
talk to the team about installation 
Talk to the team about a quote for installation.
For orders outside of the UK please contact us for a quote